After 43 years in politics and three attempts, Joe Biden finally progressed to be the democratic party's nominee in the 2020 presidential election.
Biden initially began his political career in 1970 when he won a seat on the New Castle County council in Delaware, where he stayed for two years. 
In 1972, Biden decided to run for senator. Going into the election, his Republican opponent, Senator J. Caleb Boggs, was heavily favored as he had served the previous two terms. Biden, on the other hand, only had city council experience and was viewed as a Democratic candidate with no money and no influence. 
One month into his first term as Senator, Biden's wife, Neilia, and year-old daughter, Naomi, got killed in a car accident. Despite the tragedy, Biden continued his political career and ultimately became the state's longest-serving senator.
As a senator, Biden spent most of his time focusing on foreign relations, criminal justice, and drug policy.  In 1984, he became a Democratic floor manager of the Comprehensive Crime Control Act. At the time, this was his most significant piece of legislation.
Nonetheless, as time progressed, the law's tough-on-crime provisions became controversial among criminal justice reform proponents and within the democratic party.
When asked about the legislation in 2019, Biden called his role in passing the law a "big mistake." He has since been praised for modifying some of its worst provisions.
In 1987, Biden finally announced that he would be entering the Democratic nominee race in the 1988 presidential election. 
However, people soon realized that parts of his speeches were plagiarized from the United Kingdom Labour MP and Margaret Thatcher challenger Neil Kinnock. As a result, Biden dropped out of the race.
From 1987 to 1995, Biden served as chair on the Committee on the Judiciary. He also served on the Senate's Foreign Relations Committee from 2001 to 2003 and again in 2007 to 2009, twice as its chair.
In 1991, Biden opposed the Gulf War. Despite his opposition, he supported the NATO alliance intervention in the Yugoslav Wars of the 1990s, as well as its expansion into Eastern Europe.
He further supported the resolution sanctioning the Iraq War in 2002, but opposed the entrance of US troops in 2007. He then proposed a partition plan as a way to keep a unified, peaceful Iraq.
While he was still a senator, Biden became a member of the International Narcotics Control Caucus. He was the lead senator in writing the legislation that established the "drug czar" office, a position that supervises the national drug-control policy.
In 2007, Biden announced that he would be running for the 2008 presidential election for the second time. However, after coming in fifth at the Iowa caucus, he dropped out. Barack Obama later chose him as his running mate, and together they ultimately won the election and served two terms. 
As vice president, Biden played an essential role in Obama's administration and was an active advisor to him. 
In 2015, Biden's son Beau died from brain cancer. Biden later wrote a book centered around the tragedy, named Promise Me, Dad: A Year of Hope, Hardship, and Purpose, where he recounts the traumatic experiences he faced. 
In 2016, Biden decided he would not be entering the presidential election as he and his family were still grieving in light of their recent loss. Instead, he advocated for Hilary Clinton in her race against Trump.
Three years later, Biden announced that for the third time, he would be running for president.
For the first time, he won the position of being the democratic party's final nominee, as he goes up against Trump in the 2020 election.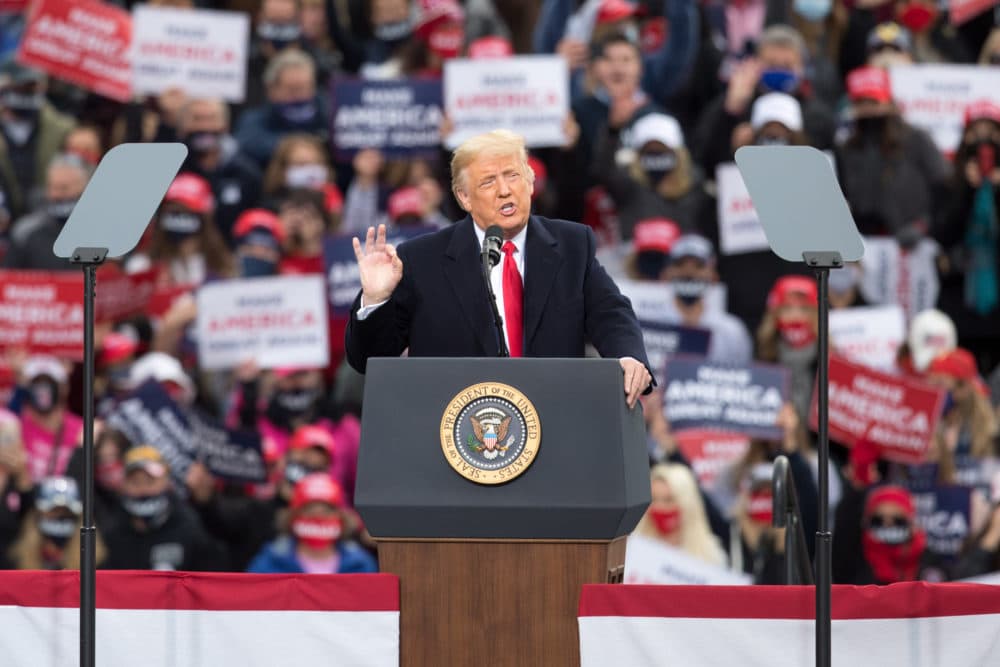 A New York native, Donald J. Trump graduated from the Wharton School of Finance in 1968. Trump was a household name, famous for his businesses, wealth, and eventually, his hit television franchise The Apprentice. "Your fired," became the entertainer's catchphrase while the show aired beginning in 2003.
From 1996 until 2015, he was also an owner in the Miss Universe, Miss USA, and Miss Teen USA beauty pageants. In 2012, Trump considered running against President Barack Obama, making his first political appearance at the Conservative Political Action Conference (CPAC). Though, in May, he decided not to run. In October 2013, New York Republicans suggested that Trump run for governor in against Andrew Cuomo. Trump decided that while New York had problems and its taxes were too high, he was not interested in the governorship.
Before the 2016 election, The New York Times speculated that Trump would enter the political world after Obama parodied him at the White House Correspondents' Association Dinner.
In June of 2015, Trump announced his candidacy, promising to "Make America Great Again." Marco Rubio and Ted Cruz were among the Republican candidates he beat out in the Republican primaries – defying the polling expectations. As the Republican Presidential Candidate, he chose Mike Pence as his running mate.
Then, in the general election, Trump beat Hillary Clinton to take the presidency. Donald Trump became the oldest first-term U.S. president and the first without prior military or government service.